GBCARE Worker's Compensation Perspectives: CDC Guidance for Prescribing Opioids
Jan 31, 2023
GBCARE Worker's Compensation Perspectives: CDC Guidance for Prescribing Opioids
By: Jennifer Cogbill, SVP, GBCARE Client Services
Opioids have been the subject of national concern over the last decade, with the devastating consequences addiction and abuse have on both victims and their families well known. In workers' compensation, opioid utilization can be a barrier to return-to-health and negatively impact the claim resolution process.
On November 4, 2022, the Centers for Disease Control and Prevention (CDC) updated its Clinical Practice Guideline for Prescribing Opioids for Pain. The new guidelines reference a substantial opportunity for improved pain management and promote greater flexibility in addressing pain management needs.
History of CDC Opioid Guidelines
In 2016, recognizing the growing epidemic related to opioid use disorder and overdose, the CDC provided guidelines to physicians on the appropriate use of opioids. The agency advised clinicians to exercise caution when prescribing opioids, limiting prescriptions to lower doses for short durations, with non-opioid therapy as the preferred treatment for chronic pain. Numerous laws, regulations, and policies have since been implemented to reflect the Center's recommendations. Additionally, many states have passed legislation limiting the initial supply of prescriptions and insurers, while pharmacy benefit managers (PBMs) and pharmacies have enacted similar policies.
Since the publication of the guidelines, workers' compensation has observed a notable decline in opioid dispensing and lower daily morphine equivalent doses (MEDs), with a shift to other types of pain management strategies, including non-pharmacologic options. Many states have enacted closed formularies limiting opioid dispensing to a brief period post-injury and post-surgery, with clinical review requirements for any requested deviations.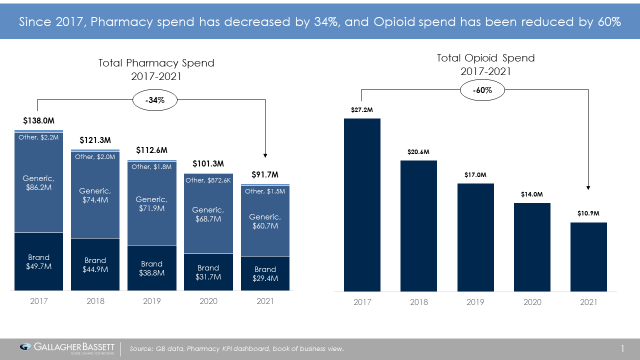 Despite reductions in workers' compensation opioid dispensing, opioid overdoses continue to increase. In fact, since 2010, the rate of overdose deaths from commonly prescribed opioids has remained consistent, while deaths from opioids have risen exponentially. This increase has been driven by continued illicit use, for which lack of provider options to address chronic pain is an alleged contributing factor.1

2022 Clinical Practice Guidelines for Prescribing Opioids for Pain
The updated CDC guidelines reflect a continuing pragmatic momentum regarding patient safety, education, and advocacy. It has expanded the guidelines to provide evidence-based recommendations for prescribing opioid pain medication for acute, subacute, and chronic pain. The CDC has also clarified that the clinical practice guidelines are recommendations and do not replace clinical judgment or individualized, patient-centered decision-making. Some of the newer state-level regulations limiting dispensing could be construed as punitive and may require modification. In addition, state-closed formularies may revise their guidelines to allow opioids beyond the brief post-injury and post-surgery timeframe.
"I commend the CDC for including pharmacists as part of a comprehensive pain management strategy, and for recognizing the critical role of individualized care in the complex nature of pain management," said Phil Walls, Chief Clinical Officer of myMatrixx. "Our pharmacists have played a vital role in the management of pain for injured workers, and we recognize that each patient is unique – there is no magic bullet to solve the opioid epidemic, but rather many small victories that often come one patient at a time."
The CDC also noted an opportunity to address health disparities in the treatment of pain for socioeconomically disadvantaged groups. It pointed out that consolidated caregiver and patient feedback indicates a lack of access to adequate pain management and provider refusal to prescribe pain medication.
"There has been significant progress made within the workers' compensation market over the last decade to maximize patient health and education, while minimizing unnecessary opioid misuse that can lead to possible unwanted downstream health and cost risks," said Johnny Taylor, AVP Ancillary Networks & Pharmacy for GBCARE. "One area relates to how opioid therapy is considered when treating individual pain, whether that is a treatment approach taken through a non-pharmacologic therapy channel such as physical medicine, or through the use of non-opioid medications such as nonsteroidal anti-inflammatory drugs (NSAIDs)."
Impact on the Workers' Compensation Claims Administration
Requests for opioid prescriptions for longer durations for patients with chronic pain may increase under these new guidelines. Due to the potential for increased utilization and abuse, integrated pharmacy oversight is critical because integration allows us to monitor for risk across all transactions, not only in transactions made with a pharmacy card. Care should be taken to regularly review dispensing activity (whether using the network pharmacy card or bills received from other sources) and identify candidates for intervention (both on transaction and holistic) at the claim level to address addiction, abuse, and health risks. This insight is critical to channeling injured workers to providers focused on the optimal health of injured workers to avoid a path to addiction.
Beyond the risks of opioid addiction and abuse, the new guidelines could be detrimental to disability durations, workplace safety, and overall claim outcomes. It is important to look not only at the prescription activity managed through the PBM card but also at physician dispensing and out-of-network pharmacy utilization.
"Ensuring a clinically appropriate patient-centric treatment regimen will be key, and achieved through a holistic integrated pharmacy solution with layers of oversight," said Taylor. "It's encouraging to see a continued effort to modify opioid prescribing guidelines for the better, with the ultimate goal of optimizing each patient's long-term health and wellbeing."
A 360-degree view of all dispensing activity allows administrators to identify claims at risk and apply the appropriate intervention strategy. Unfortunately, not all providers have the same level of pharmacy education and compliance with evidence-based medicine. Referring to network providers with a track record of adhering to evidence-based medicine will help to avoid risks to the health and recovery of our injured workers.2
"Since the release of the updated guidelines, I have seen indications that some rules and regulations may be in conflict with guidance from 2016," said Walls. "These changes may appear to be a relaxation of the previous restrictions and may have their own unintended consequences. It is vital during this transition that we focus on a risk versus benefit individualized approach to pain management to ensure that all opioid therapy is clinically appropriate and necessary."
Benefits of Partnering with Gallagher Bassett
As a Gallagher Bassett client, our GBCARE and Analytics team deploy appropriate tools and highlight the necessary topics during program discussions. These strategies include identifying candidates for intervention and referring to the best providers upfront to avoid risk down the road.
Because we anticipate an uptick in pharmacy and opioid utilization on workers' compensation claims, our teams focus on monitoring risk and leveraging the appropriate intervention strategies for clients to proactively mitigate emerging exposure.
Because we anticipate an uptick in pharmacy and opioid utilization on workers' compensation claims, our teams focus on monitoring risk and leveraging the appropriate intervention strategies for clients to proactively mitigate emerging exposure.
In addition, our teams provide a Pharmacy KPI Dashboard that clients can leverage to view activity on claim, monitor for trends and claims at risk. This dashboard gives clients real-time access to pharmacy utilization, network penetration, and cost. Clients can also drill down into specific claims and transactions to monitor activity and the dispensing providers.
To learn more about GBCARE and how we can support your claims process, please contact your Gallagher Bassett Account Executive or Client Services Team.
____
CDC, National Vital Statistics System Mortality File
Morbidity and Mortality Weekly Report, https://www.cdc.gov/mmwr/volumes/71/rr/rr7103a1.htm?s_cid=rr7103a1_w#conclusionandfuturedirections